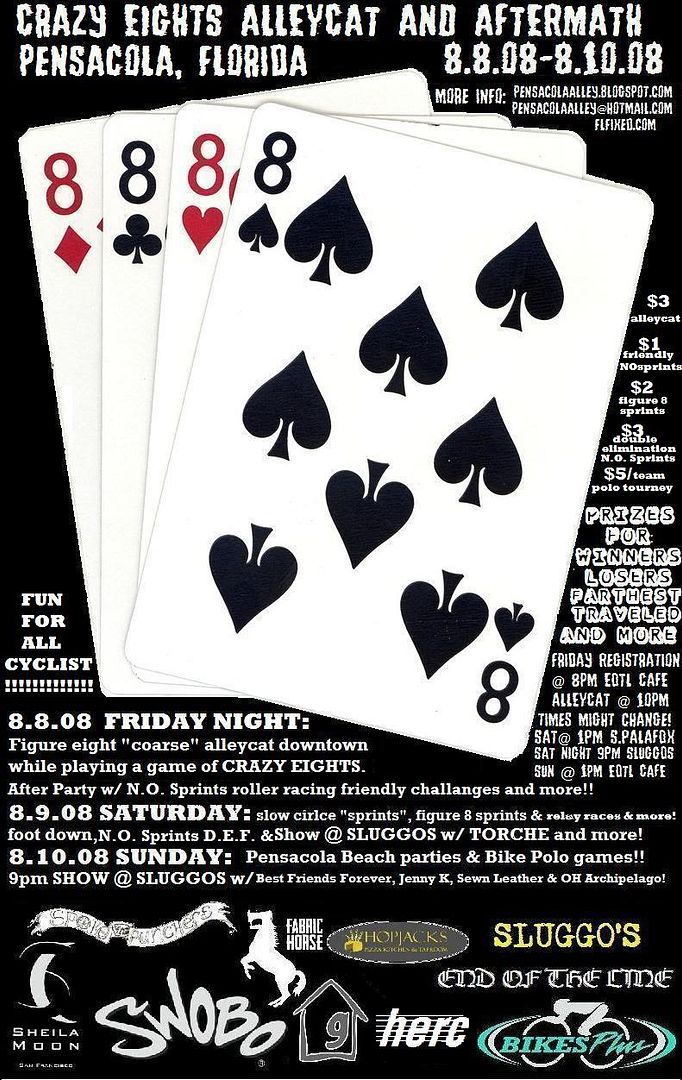 FRIDAY NIGHT 8.8.08 CRAZY EIGHTS (the card game) themed alleycat!
figure 8 coarse with 5 checkpoints playing a huge game of crazy eights.first person to get rid of all their cards (there will be a way of catching cheaters) wins! possible start time 10pm
SATURDAY 8.9.08 BIKE EVENTS ALL DAY LONG AROUND PENSACOLA
(competions, Figure 8 sprints downtown, SLOW Circle "sprints") and many other ideas to come.
ENDING WITH MORE EVENTS (such as Foot Down, Empty Keg Relay Race and more)
SHOW @
SLUGGOS vegi restaurant and bar
w/
TORCHE, LAIR OF THE MINOTAUR and more!!
SUNDAY 8.10.08 BEACH PARTIES & BIKE POLO (tournament?!!) (when in pensacola ya cant miss out on some beach times)
SHOW @ SLUGGOS w/
Best Friends Forever, Jenny K, SEWN LEATHER, OH ARCHIPELAGO and more!!

SPONSORS:
DS COURIERS, SLUGGO'S, End of the Line Cafe, CYCLE SPORTS, BIKES PLUS,
SPOKEPUNCHERS
,
Fabric Horse
, HopJacks Pizza, SWOBO, GEEKHOUSE,
Sheila Moon
and more TBA