Thanks for all that came out local and the kids from New Orleans, Orlando, Gainesville, Jacksonville and more!
Thanks to our sponsors! DS COURIERS, SLUGGO'S, End of the Line Cafe, BIKES PLUS, SPOKEPUNCHERS, Fabric Horse, HopJacks Pizza, SWOBO, HERC, GEEKHOUSE, Sheila Moon.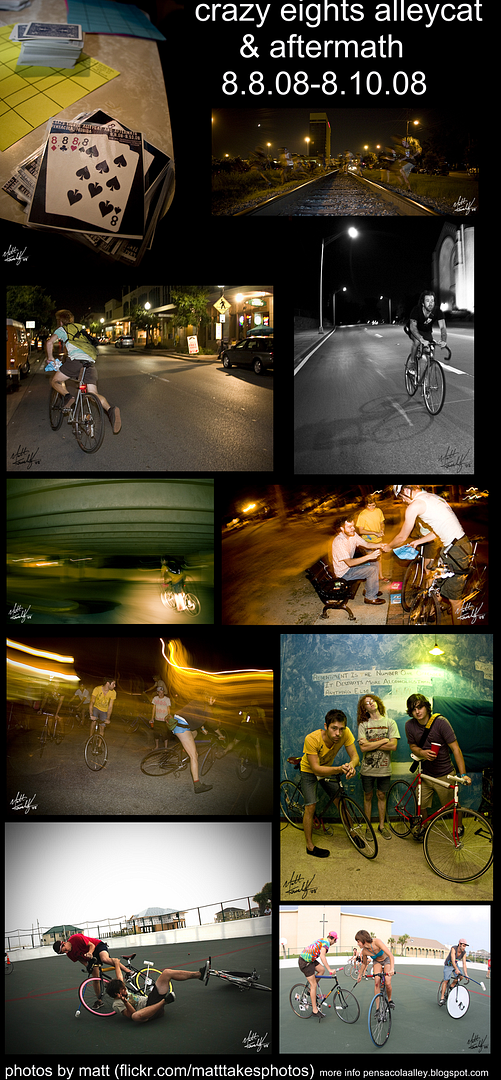 check out photos from Matt http://www.flickr.com/matttakesphotos
and some more photos on
photobucket
from lara's camera.
check out jenny's post on
407fixedgear.com
CRAZY EIGHTS ALLEYCAT RESULLTS:
Around 35+ people were registered to race not all turned in their manifest at the after party those that still have theirs can turn them in.
name time finished checkpoints to finish
1. Ryan harrington 10:47 7
2. Evan Butts 10:49 7
3. Woozy aka Chuck 10:49 7
4. Hurst Butts 10:50 7
5. John ellis 10:51 7 (out of order)
6. Torren Hoyrd (gainesville) 10:57 7
7. Josh K 10:57 7
8. Peter Fricke 11:00 10
9. Paul Danos 11:04 11
10. Jeff Gerhart 11:06 8
11. Sean Pearson 11:06 9
12. Ryan Elwright aka Rod 11:06 12
13. Ryan Huff aka muscles 11:08 8
14. Adrien Tucker 11:10 11
15. Stephen Hyde (big pete) 11:10 16
16. Willie Hatfield 11:11 12
17. Lara Lookabaugh 11:12 8
18. Michael Crucia 11:12 10
18. Amy Ordogne 11:12 ?
19. Johhny Warren 11:13 12
20. Travis Mitchel 11:13 13
21. Ian Mahone 11:15 14
After some silly times and everyone finishing up at hopjacks we rode up to sluggos for beverages, food and some Foot Down in the old bank parking lot and then set up the N.O. Sprints team set up the roller sprints for some testing on the main stage.
After 3 rounds of Foot Down the winners of each round faced off against each other and for fun everyone cheered for the Tall Bike to be thrown into the championship mix! Elwright (aka )on the tall bike came out the champion with Ryan Huff (aka muscles) & Anthony (aka shart wheel) falling at the same time to tie for 2nd.
couple photos from friday night test sprints: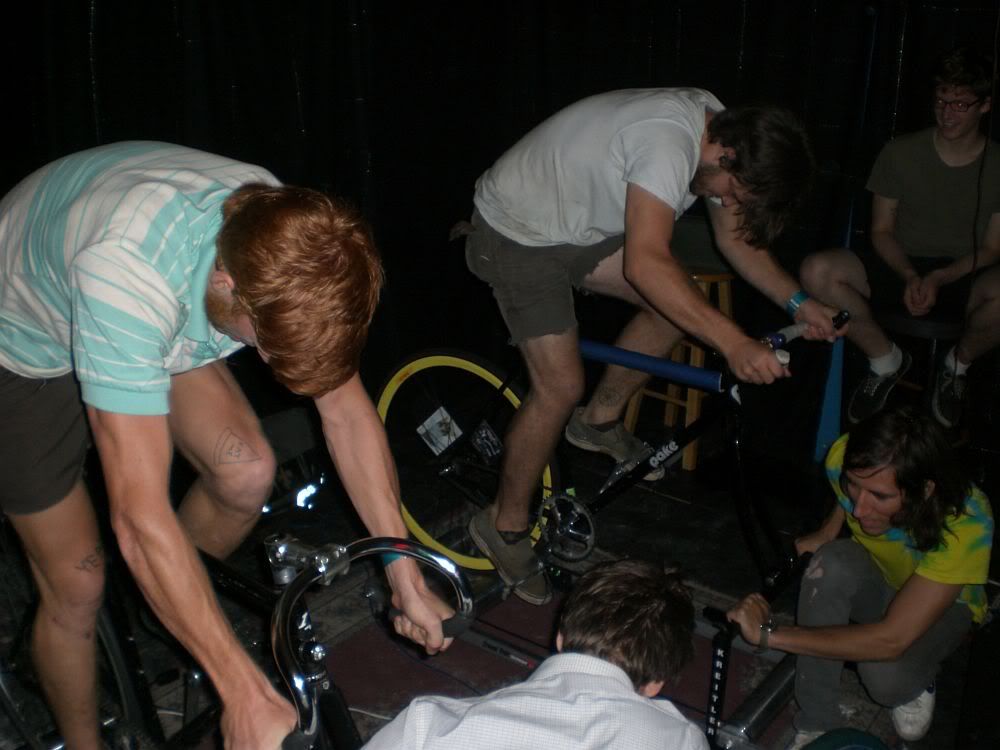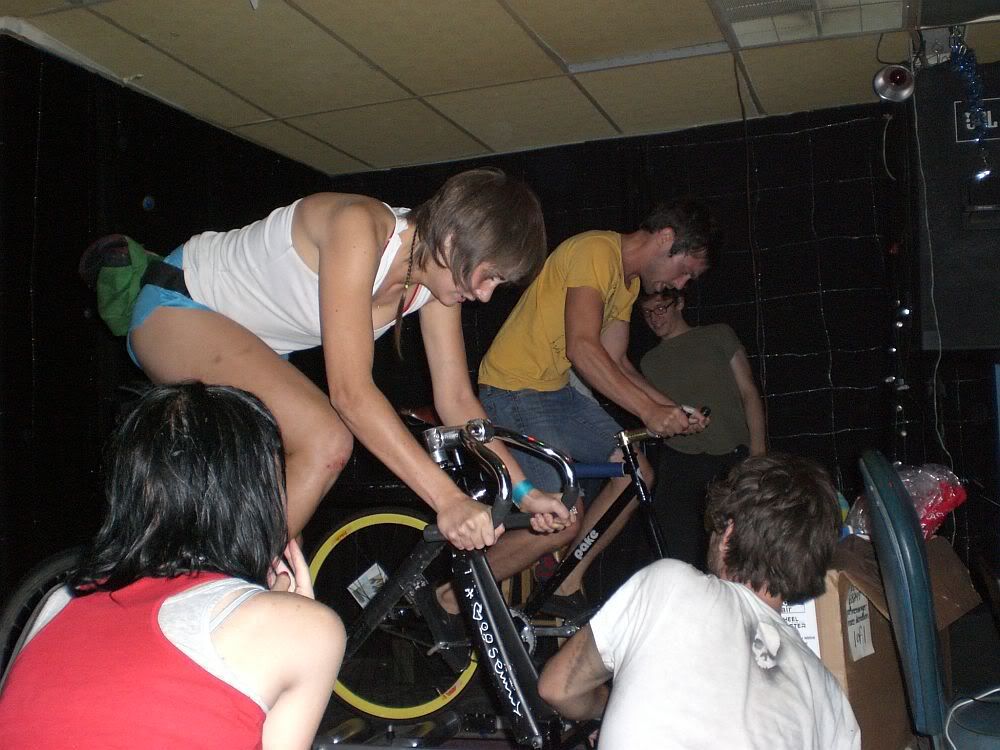 The N.O. Sprints event was amazing on Saturday. photos and overall results up soon...
Willie from New Orleans came in first after 5 rounds with Stephen Hyde of Pensacola coming in second, Anthony of Pensacola in 3rd and Ryan Huff in 4th.
Jenny K of Orlando was the fastest of the ladies.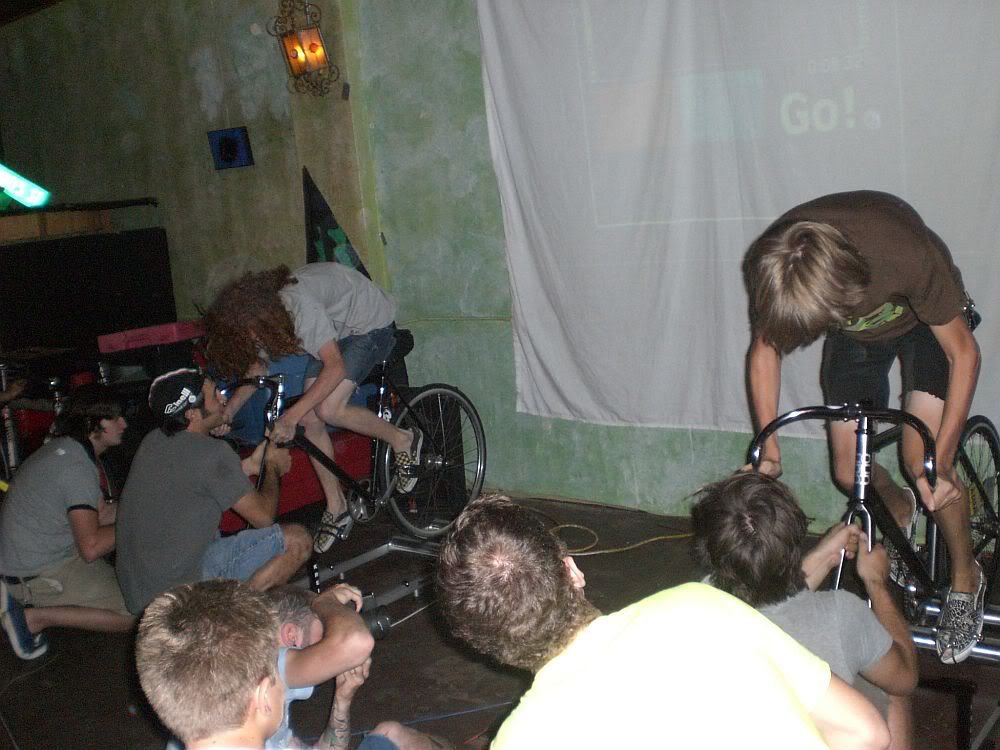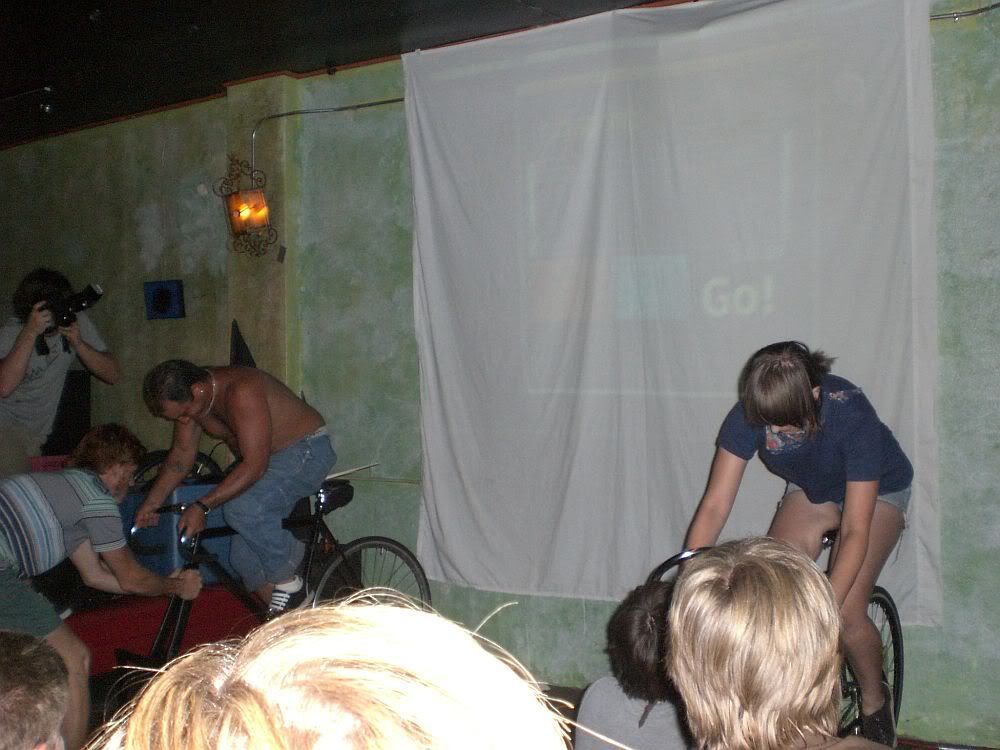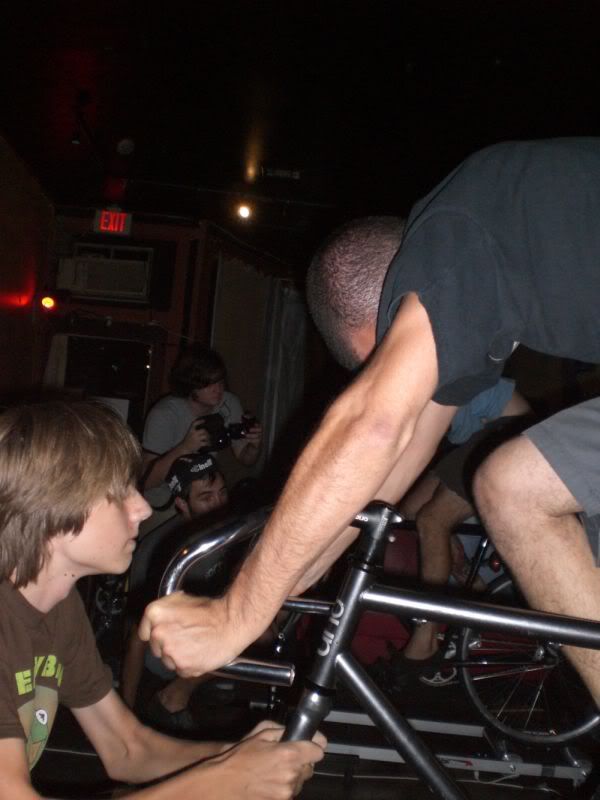 and Sunday after a nice Vegan Brunch at End of the Line Cafe everyone headed out to the beach to catch some jelly stings and some bike polo!
The polo tournament was a 5 team round robin with 2 top teams going to championship game.
ROUND ROBIN results
RIM JOBS (max, AB, rod stewart) W: 3 L: 1
F Sticks (ryan, Ian, kid [sorry]) W: 1 (forfit from NO TEAM) L: 3
Pcola Board Short Marauders (Anthony, Ryan G, Stephen big Pete) W: 4 L: 0
NO Team (paul, willie, mike crucia) (first time ever playing polo) W: 0 (forfit last game had to get home) L: 4
Dirty Sanchez (jenny dirty sanchez K, h. BUTTS, ryan muscles) W: 2 L: 2
CHAMPIONSHIP GAME
PCOLA BOARD SHORT MARAUDERS 5 RIM JOBS 1